We are CLOSED - Opening April 12th, 2019
What to know before buying a bicycle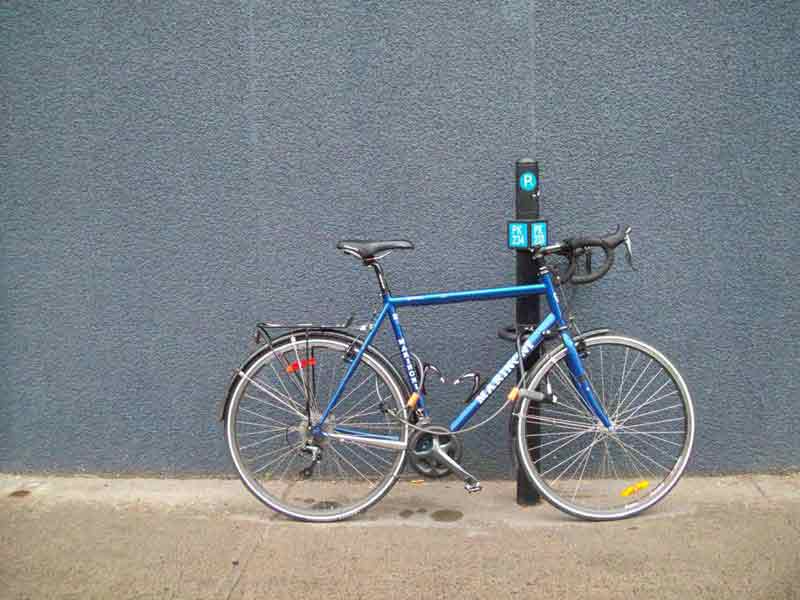 Before buying a used or new bike there is some basic information to know to avoid buying a bike that does not fit your needs or your height. Here you will find tips based on my own experience buying hundreds of used bikes every year, see
Where the bikes sold here come from
for more information . After reading this page you may be convinced to buy a
reconditioned and guaranteed bike
from us if you can. But unfortunately we do not always have the bike you are looking for or a bike of the right size. Maybe you can not buy here because you are not from the Montreal area.
A new, used or reconditioned bike
You have the choice between a new bike, a used bike sold as is without warranty, or a reconditioned (restored) bike such as those sold here. There are several reasons to buy a used or reconditioned bike rather than a new one, it is not just to save money. See Why buy a used bike if you are not convinced. But before purchasing anywhere you could go have a look at new bikes in bike shops to get an idea of prices, choices and market trends. This will save you from paying too much. Some sellers on the internet ask more for their old rusty bike than the price of a an equivalent brand new bike !
You may be considering buying a new low-cost bike at one of the major retail chain stores. Do not make this mistake! You are better buying a good quality used bike reconditioned by an expert than a new bike assembled by an amateur with no training, no knowledge of bicycles or cycling and pressed by time. These low-end bikes are dangerous because they don't even tighten the nuts and bolts enough, and barely functional because they don't adjust the gears and brakes correctly. In these retail stores bikes are viewed as a kid's toy, not a transportation device to be used for commuting daily.
Buy a bike of the right size and adjust the saddle
You must buy a bike of the right size according to your height. Good quality bikes are manufactured in several different sizes. Among other things it is wrong to believe that all bikes with 26 "wheels are the same size and fit all adults, contrarily to what you may have been told in a large retail store. You will find information in the sections Which bike size you need and How to adjust the seat . When shopping on this web site you will find in the description of each bicycle the min and max height of the cyclist. The first question I ask before selling a bike is "How tall are you?"
Usually individuals who advertise their bike on the net do not know the size of their bike, they do not know how to measure the frame. They believe that the bike is the right size for them and will announce a "tall man bike," but actually they always ride with the saddle too low and they themselves bought a bike too small for them. So the first question you should ask is "How tall is the frame?" Bring a measuring tape when you go see the bike.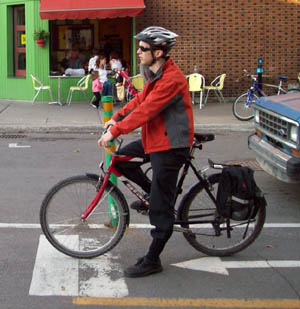 See Which bike size for your height and How to adjust the saddle of a bike
Bike for men and women, what's the difference?
In principle there are bikes for men, women, boys and girls. In practice there are few technical differences, apart from the colors and the inclination of the upper tube on the ladies bikes. These bikes are easier to straddle because the upper tube between the saddle and the handlebar is lower. With low-end and mid-range bicycles there is no other difference and several women ride on so-called men's bikes. Conversely several men will adopt a so-called ladies bike easier to straddle. Women who measure 168cm (5ft 6 ") and over are virtually forced to buy a bike for men, see section Which Bike Size you Need for more info. On better quality bicycles the width of the handlebar is adapted to the size of the cyclist, for example smaller men's bike and woman bikes will have narrower handlebars. Unfortunately for women, in the high-end bikes category with aluminum or carbon fiber frame, the frame can not be slanted because the materials are not strong enough, you have no choice but to buy a men's bike. In recent years manufacturers such as Giant have introduced higher-quality ranges of bikes designed for women. Women have longer legs and a shorter body than a man of the same height.
There are also bikes that are unisex and are difficult to classify into one or the other category. These bikes are in the category "for all". Among others modern bicycles with aluminum frame often have a geometry with an upper tube slightly inclined towards the saddle, similar to ladies bikes.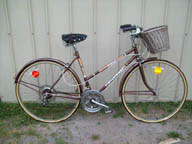 Ladies bike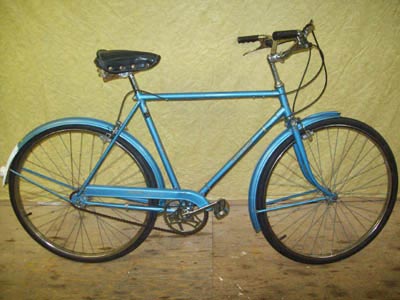 Men's bike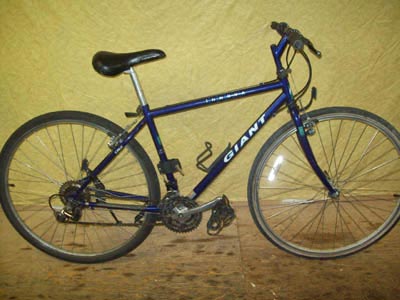 'For all' bike
Choose a bike type according to your needs
There are several types of bikes on the market, each intended for a different use. Nowadays the majority of city dwellers who want a bike for commuting choose a hybrid bike, a city bike or a road bike, but there are several others. See the section The Different Bike Types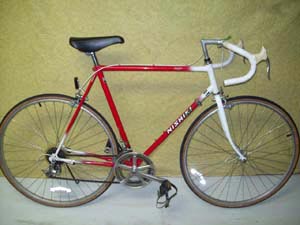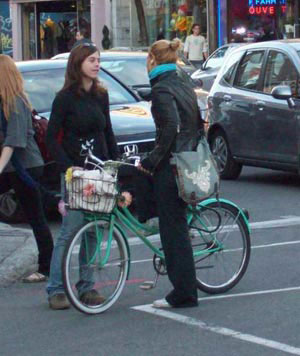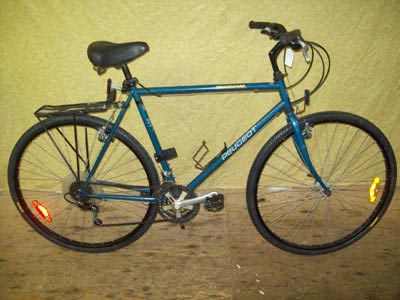 Road bikes, City bikes and Hybrid bikes see all bike types
Think about accessories
You will need at least a lock to secure your bike and depending on the usage you should plan a budget for other accessories such as a rear rack, basket, bell, lights and more. When purchasing a bike from us you can add accessories for sale when the bike is delivered. You will find lots of useful information in the section (in French only) Bicycle accessories: tips and tricks .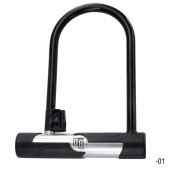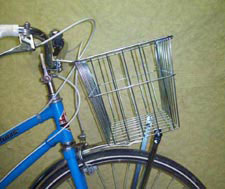 You can add accessories for sale when the bike is delivered
Where to find used bikes
Obviously, we hope that you will become one of our customers by purchasing a reconditioned and guaranteed bike here if you can. But unfortunately I do not always have the bike you are looking for or a bike of the right size. Maybe you can not buy here because you are not from the Montreal area.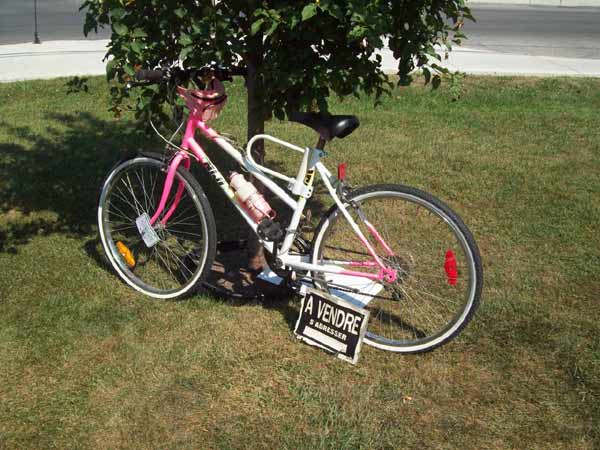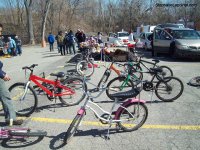 Garage sales and flea markets in the suburbs.
See Where to find used bikes for more.
Nowadays the first reflex when looking for a used bike is to search on classified ad web sites, but you will find in the section Where to find used bikes a list of places where you can find bicycles at much lower prices. Often the good condition and low priced bicycles are completely out of town and you will need a car to go see them and possibly carry it back home. If you have the time and a car it could be worth it. But consider the hassle and cost to get there, but also what type of vehicle is needed to carry a bike, without damaging the vehicle nor the bike. How much will you spend on fuel ? If the bike does not fit your size or it's a useless wreck, you've lost all that time for nothing. So the farther it is, the better the price must be, and you must negotiate with the seller. When you buy a bike here the delivery is free in Montreal.
Watch out for stolen bikes
Some used bike vendors are shady and are selling suspicious looking bikes. When I publish a "bikes wanted" ad, I sometimes get calls from individuals who have one or more bikes to offer but they are vague about where they come from, they don't know much about their own bike and even less about bicycles in general.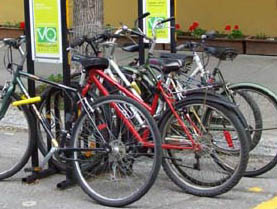 You will need tools if you buy a used bike elsewhere
When you buy a bike here, the saddle and handlebars are adjusted on delivery , the bike is fully tuned and ready to use. If you buy a bike elsewhere, you will need at a minimum to adjust the saddle for your height and tools are needed if it does not have a quick release. When you try a bike, the first thing to do is to check that the seat post is not stuck in the frame. You will probably need a 13mm wrench to adjust the saddle or a hex wrench set, and a pump to inflate the tires before you test it. Bring a measuring tape to check the frame size .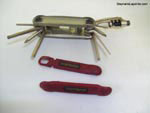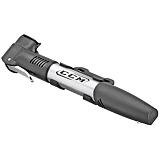 Tools might be required to adjust the saddle and handlebar, inflate the tires, ..
Try the bike before buying it
You should definitely try the bike before buying it, several problems become apparent only when the bike is rolling and pedaling with a tension in the chain. Change the gears, brake suddenly and put it to the test. If possible try to go up and down a steep slope. Go through all combinations of gears with the front and rear derailleurs. Check that the brakes are not blocking, braking is gradual, check that the wheels are turning true.
Even if you buy a new bike you must try it on the road before buying it.
If you can not try the bike, because the seller didn't even bother to inflate the tires for example, you should never pay more than $ 25, no matter the bike. At worst you'll have a bike for parts!
If you do not know too much by bike bring with you a friend who knows more and have him try the bike.