We are CLOSED - Opening April 12th, 2019
Where to find used bikes
Where the bikes sold here come from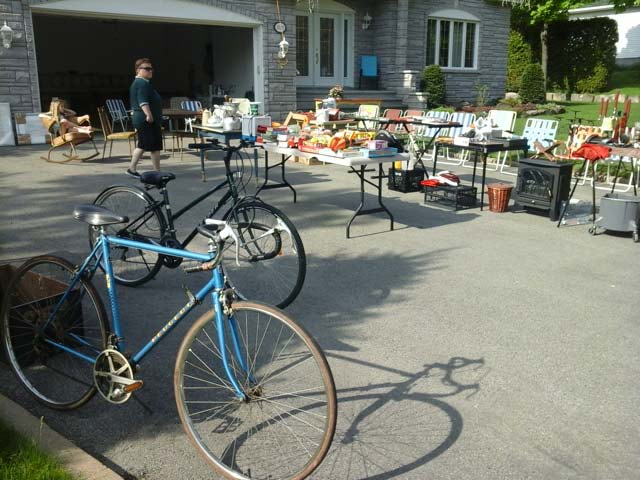 Bikes for sale at a yard sale in the suburbs. You must go outside Montreal to find low cost bikes in good condition.
Millions of used bikes in Quebec
According to a study by Vélo Québec around 600,000 new bikes are sold every year in Quebec and Quebecers own over 6 million bikes (see "Létat du vélo au Québec en 2010"). There are over 4 million cyclists in the province, 3.1 millions being adults ! Given those numbers that might surprise you, it is clear that there is a huge need for an healthy used bike market, cyclists needing to do something with there bikes once they no longer need them. Unfortunately hundred of thousands of bikes are simply thrown in the garbage or send to the scrap yard for the metal each year. The vast majority of these bicycles could be repaired or recycled but we live in a society where consumers are encouraged to throw away products instead of fixing and maintaining them, regardless of the environmental impact. We are proud to give a second life to hundreds of bikes every year and to make a real difference for the planet with real actions, not only political talk and wishful thinking. On top of that bicycle buyers like you have many good reasons to purchase a refurbished bike instead of a new one and the demand is high, see Why buy a used bike.
Given the bike theft rate in Montreal, it is legitimate for people who live in the city to be concerned about the origin of the used bikes sold by anyone. In the country area where we are located, and in the nearby suburbs south-west of Montreal, almost every family owns many bikes to be used mostly sunny Sundays. It`s part of the standard suburban fixture. In every home you see bikes hanging in the garage, stored in sheds, barns and elsewhere. Some hoarders have piles of bikes at the back of their barn, see pictures below. Given these facts, it`s surprising how few people are using their bike for transport and even for leisure. You see very few people actually riding a bike on suburbs and rural roads. After a few years people get older, the bike haven`t been used more than once or twice in the last 3 years. Sometimes it needs a minor tune up or it`s got a flat. So it doesn't`t take much for the bike to be tossed in garbage, or put up for sale at a yard sale, to make room for something else. The result is that we find many used bikes and some of them are in like new condition under the layers of dust. Some bikes were probably not used more than 5 times in their whole life.
Bike Removal Service
Because a bike is cumbersome, occupies a lot of space and is almost worthless if it needs any kind of repair, many people contact us to donate a bike for recycling knowing that it will be saved from the junkyard and will be enjoyed by someone else for a few more years.We also help business and building managers in cleaning up locker rooms with left over bikes from long gone tenants, learn more.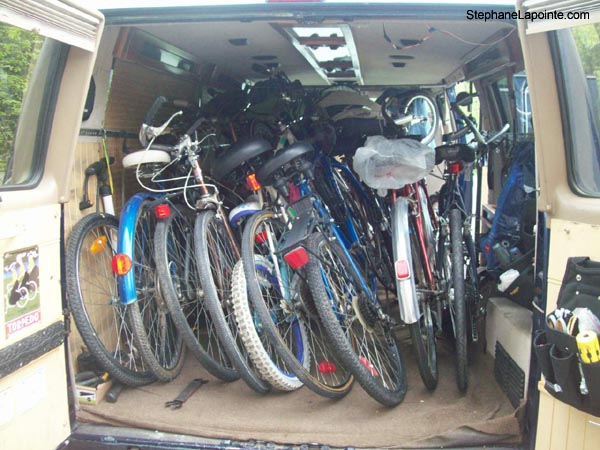 FREE BIKE REMOVAL SERVICE
You have one or many cumbersome bikes to get rid of ? We save hundreds of bikes from the landfill every year with this very popular service.
Trade-ins from Customers
When purchasing a bike here you can trade your old bike in exchange of a price reduction depending on the condition. Many customers are very happy to make room for the new bike and save themselves the hassle of selling the old clunker that would be hard to sell anyway because it needs a lot of work. Trade-ins are an important source of bikes.
TRADE YOUR OLD BIKE FOR A REBATE
Reduce the price of your purchase, make room for your new bike, save yourself the trouble of selling your old bike
Garage Sales and Yard Sales
Mostly on long weekends in the Spring and Fall, for example Victoria Day and Labour Day weekends. During these 2 weekends we visit 100's of yard sales to find good deals.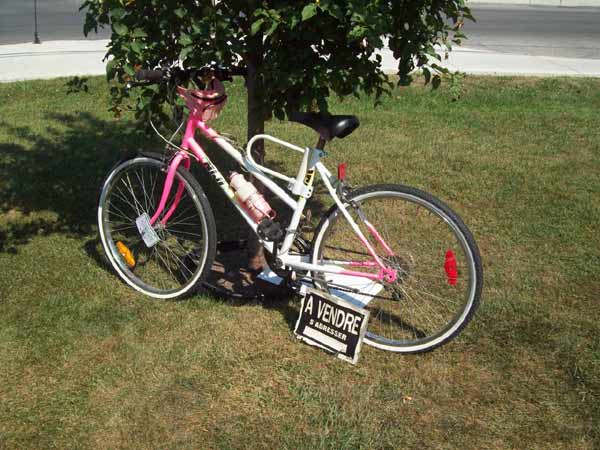 Bicycle for sale in a garage sale. See also picture at the top of this section.
Flea Markets
Flea markets is the place where regular people who don't want to make a yard sale at home, metal pickers and other wheelers and dealers go to sell there merchandise. Bike prices are all over the place, from the very cheap good deal to outrageous scams from vendors who know nothing about bikes.

There are always bikes for sale at flea markets and we go to sell kid's bikes and other bikes too low quality to sell on the web site with a warranty.
Hoarders on country roads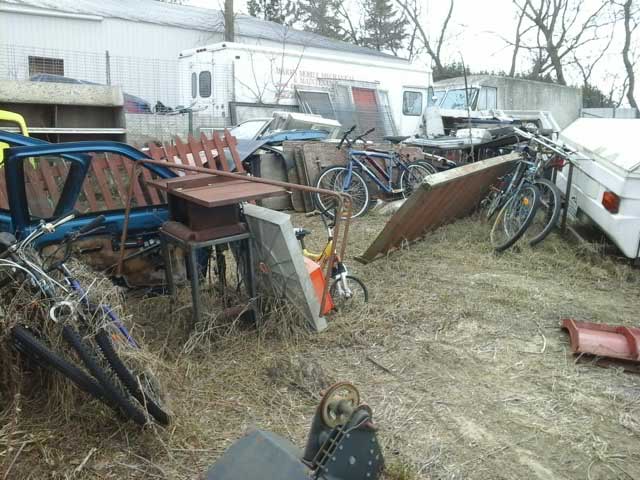 You would not like this hoarder as a neighbour but he's got cheap bikes for sale
Metal Pickers
Metal recyclers making a living picking scrap metal from garbage. We pay them more than what they get for the weight of metal, so they bring all the bikes they find. Learn more about making money by joining our recycling network.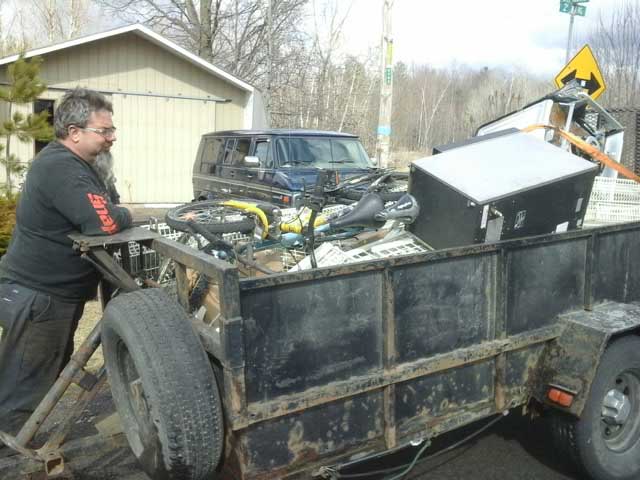 Junkyards - Scrap yards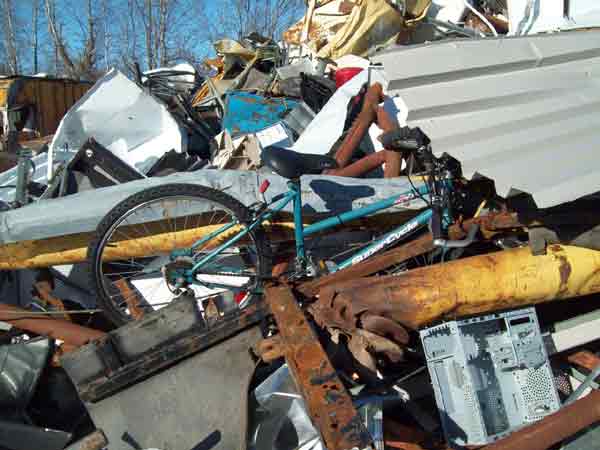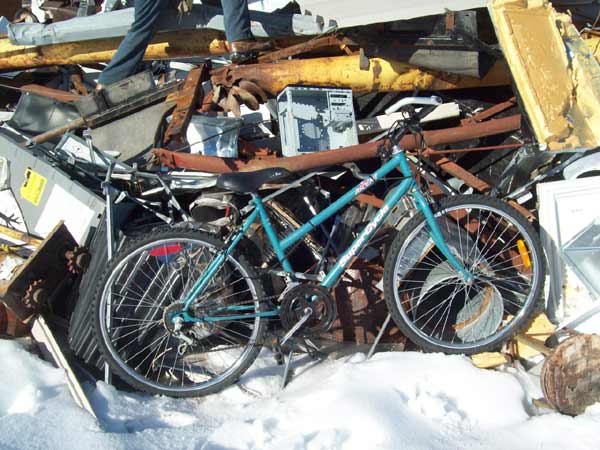 A bicycle saved from the crusher in a junkyard. It's a low quality bike but it was almost never ridden and the paint was very good looking.
Thrift Stores
Salvation Army, Value Village and community help centers run by charitable organizations often have cheap bikes for sale.
Non-profit organization recycling bicycles
They employ mentally handicapped people or trouble youth to have them learn useful skills. The people running the place are social workers without the knowledge to fix bikes correctly, very little cycling experience and no business experience. So the best you can do to help them is to buy a used bike amongst the ones they haven't touched yet, in "as is" condition.
Not all bikes are worth it
So it's rather easy to find any used bike outside Montreal, but nowadays we come across many low quality, heavy, kid's or teenager's size mountain bikes originally purchased in retail chain stores. Many of these bikes are not worth recycling because they will never ride correctly. It's much harder to find good quality adult size bikes ! Tall men's road bikes and vintage city cruisers for women don't show at every yard sale. People who purchase a brand new adult size bike, after age 18, usually are more serious bike users, they pay from their own pocket, and intend to keep it for a long time. They won't give it away at a yard sale after 5 years like they do for their kid's bikes.
Warning ! No warranty when you purchase elsewhere
All used bikes sold by individuals and other retailers are sold "as is", without any warranty.
Whatever the seller said, all used bikes I purchased needed some work before they could be used efficiently. Most of them were barely rideable! Sellers just want to get ride of the bike and they won't invest any time and money fixing it for you. Actually the main reason why they want to sell the bicycle is often because of a problem they can't fix, and it would be too expensive to have a shop do the work! So they decided to buy another one and get ride of the clunker.
Sometimes the seller thinks the bike has no problems because they know nothing about bikes themselves. They don't realize that a pedal is bent, the bottom bracket is loose, the wheels are not straight, etc... they just think it's normal and have no other bike to compare.
Comments like "it only needs a minor tune-up" actually means it needs a full tune-up, there is no such thing as a minor tune-up. The seller knows it's got problems, ask him what exactly the problems are.
Other sellers are plainly lying. They pretend it works very well but they haven't used it for years. It might have been working well when parked, but after years of storage you can't simply add air in the tires. The tires will have cracks and flat spots, the cables, levers and shifters are stuck or stiff, and more work is expected. The seller might say "I used it just last week", but it`s obvious the bike has been parked for over a year or more.
If the seller hasn't even taken the time to put air in the tires, it is because he hopes you won't try it. You should be very suspicious and walk away or deal the price down below $25.
The Do-It-Yourself Projects
You might plan on buying a cheap bike needing work and fixing it yourself. If you have the time, tools, space and qualifications it might be a good option. Just make sure the bike really only needs work you can handle. If it takes the whole summer to make it ride properly, you need to buy special tools, you must convert one room in your apartment into a bike shop (fixing a bike is an oily and messy affair) and your whole place smells WD40, and then you spend hours on blogs trying to figure out how to do the job from other amateur's advice, it's not a good deal! As soon as you must bring the bike to a repair shop, because you don't have the special tool to remove the chain, the crank, the freewheel, or align the wheels, you will end up spending the same amount of money, probably even more, as if you would buy a fully rebuilt bike from here.