We are CLOSED - Opening April 12th, 2019
The bikes sold here and the service we offer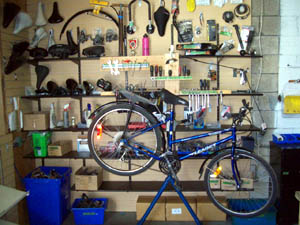 Get expert advice
Get help choosing the correct bike for your needs, the correct size for your height and within your budget. The majority of customers are urban Montrealers using their bike to commute everyday, often regardless of the weather. For you a bicycle is not a toy just for fun, it`s serious business because you count on it for work or school and to go anywhere. You want to deal with an experienced expert taking it seriously like you. You are ready to compromise on the look of a used bike, but it must absolutely be reliable, comfortable, safe and efficient. I`m not desperate to sell any bike to anyone, I prefer telling you to wait for the right bike if I don`t have the right one for you.
See Bike Tips for tons of information on The Different Bike Types, Which Size of Bike you Need and much more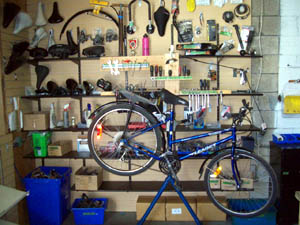 Bikes are fully tuned, inspected, repaired and road tested before they are sold
Every bike goes through a meticulous inspection and repair process. Anything broken, worn, loose or rusty is fixed or replaced. Typically we will replace stiff cables with new ones, put new tires if cracked or worn, true the wheels, adjust brakes and gear shifting, lube the bearings, replace torn seats, new brake pads if required, re-tighten every nut and bolt and much more.
We invest the money required to buy new parts and do the job right. We won't re-use old brake cables or worn tires for example.
Once the job is done, the bike is taken for a good ride and usually it goes back on the work stand for final tuning. Many problems are revealed only when riding hard and fast with tension on the chain.
Because most bikes are covered by a 30 day warranty, and many of our customers are using it daily to commute in sometimes harsh conditions, experience taught us what are the critical points to verify and which bicycle makes and models to avoid.
The bikes are cosmetically in average to perfect condition
Each bike is cleaned to reveal how good it looks. Average bikes will have scratches here and there and might have minor surface rust. Bikes are not repainted, they have the original paint so it`s usually not perfect. Rusty wrecks are not sold, they are dismantled for parts.
Read the comment area on the web page describing a particular bike to know more about it`s condition. Some bikes are in excellent or even mint condition, for others the paint and chrome are quite worn and rusty but it rides well. In these cases a comment in the bike description will mention its out of the ordinary condition. Otherwise you should assume the bike is in average cosmetic condition, i.e. it looks like most used bikes you see on the streets.
Average condition is relative to its age, we don`t expect the same level for a 5 year old bicycle and a 60 year old antique one.
The bike is delivered for free
The price of the bike includes delivery at your home or workplace. If you purchase extra accessories like a basket or a bell, they are installed free of charge on delivery. More on delivery..
You try the bike before deciding to purchase
When purchasing a new bike, the majority of bike stores, including large retail chains, won`t let you try the bike on the street before purchase. It`s ridiculous !
You must always try a bike before purchase to make sure it is the right size for you, to check the riding position, road handling, performance and more. Also it is the only way you can make sure the gears and brakes work correctly.
When purchasing a bike here, the seat will first be adjusted, then you try the bike on your street in your neighbourhood in a real situation. The seat might need to be raised or lowered a little, then you try it again. You test it for real before deciding to purchase.
The bike is covered by a 30 day warranty
The majority of bikes sold here are covered by a full 30 day warranty, this includes most adult road bikes, hybrid bikes, city bikes and mountain bikes. We will come back to fix any problem, even a flat tire, occurring within 30 days after purchase. Some bikes are sold without a warranty, in that case it is clearly mentionned in the bike description.
More on warranty..
Trade your old bike for a rebate
You have a bike you will no longer need ? Trade it for a price reduction, make room for the new bike and save the hassle of selling the old bike by yourself. Whatever the condition of the bicycle it will be fixed and resold, or recycled for parts and metal. More on
bike trade-ins and donations..
Not a stolen bike
Bikes are from legitimate sources and if you are worried you can ask where, when and from whom I purchased the bike myself. See also
Where the Bikes Come From
and
Sell, Trade or Donate your Bike
. If you were the victim of a bike theft, read
basic info about how to proceed
but you will find much more detailed information on the French version
"Les vols de vélos"
Environmentally friendly local purchase
When buying a used bike here instead of a new bike made in China or Malaysia, you make an environmentally friendly and fair trade local purchase. It`s a genuine example of sustainable development by re-using, recycling and reducing the impact on the environment. You help a local Canadian micro-business instead of a big corporation with many middlemen. See also
Buying a Used Bike is Smart
and
About Stéphane Lapointe
See Also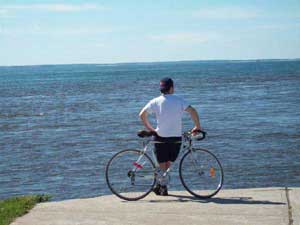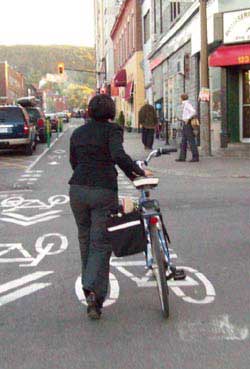 Left: men with road bike contemplating the Saint-Laurent river, end of canal Lachine bike path, Montreal.
Right: lady pushing her city bike on Rachel Street's bike path, downtown Montreal.